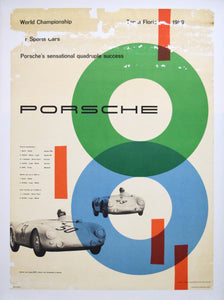 This poster was a long-distance purchase that I saw only in pictures. If I had seen it in person, I would have noticed some sections were hanging on by a thread. By the time it got to me in a tube, those sections separated and some other pieces literally evaporated into dust. It didn't make sense to fully restore this example as nice ones can be found but it also seemed a shame just to roll it up and throw it back on a tube so I had my ace poster restorers Fourth Cone Restoration reassemble what was left and...
---
Toward the end of 2020 and as the pandemic started to cool, I noticed a significant uptick in interest in the vintage car posters I offer. Generally speaking, I believe potential buyers were becoming more relaxed about our "new normal" and because they were spending more time at home, increased their desire to be surrounded by interesting "things." I recently read an article in Bloomberg that echoed much of the same but was more focused on travel posters. Enjoy!
---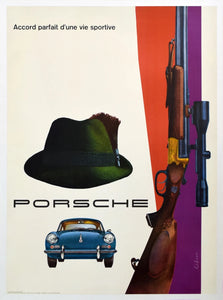 I'm a little sad to see it go, but the 1961 356 + Rifle is off to a new home. I always take care to send posters in an extra sturdy Yazoo Mills heavy duty tube to (almost) guarantee a client's poster will get to them safely and without damage!
---
With so many decades passing since their original publication, it is getting more and more difficult to find good posters. Additionally, because some of these posters were printed in limited quantities and often given away, in many instances they were often just tacked up on a wall or left to molder in a basement. In short, time has often not been kind to some of these paper goods.  More than occasionally, I discover or am offered a desirable poster that is in less than optimal condition. If it's truly rare and desirable - and who knows when you might find...
---
I was recently tasked by my father-in-law to help him find and purchase a new car. As many might be aware, September 2021 is NOT a great time to purchase a new car as Covid-19 shutdowns have affected the specialized computer chips necessary for car production. To make a long story short, I visited a couple of dealerships and spoke to many more via email and telephone and finally got my FIL a great deal in this climate - about $1,300 off a new Subaru Outback that will be here in a couple of weeks.    But while that is...