• original poster • Porsche • poster • poster collector • vintage poster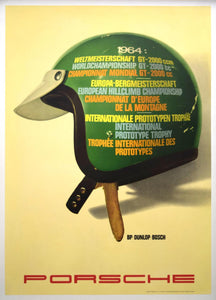 While I had been collecting posters with other subject matter for some considerable time before, the poster image that drew me into Porsche Poster collecting was the one pictured here - 1964 World Championship.
---
• original poster • poster • poster collection • reproduction • vintage car poster • vintage poster
To novices just starting to collect posters, there are general techniques to determine if a particular poster is a vintage original versus a later reproduction. 
Here are a few guidelines to help educate yourself and potentially avoid making an expensive mistake.