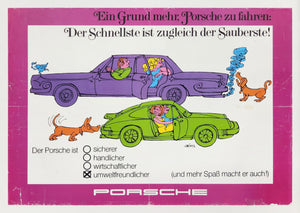 One More Reason to Drive a Porsche...
Regular price
$995.00
$0.00
Unit price
per
One more reason to drive a Porsche: the fastest is also the cleanest! The Porsche is - safer - handier - more economical - more environmentally friendly (and it's more fun too!) OR  Ein Grund mehr, Porsche zu fahren: Der Schnellste ist zugleich der Sauberste! Der Porsche ist - sicherer - handlicher - wirtschaftlicher - umweltfreundlicher (und mehr Spass macht er auch!)
Original and very uncommon German showroom advertising poster for Porsche released circa 1970s. Features an illustration of a smiling couple in the large purple car with a dog smelling the fumes above, and a smiling couple and a dog wiggling its tail at a smaller green Porsche 911 car. Attributed to designer Griffel. 23.2" x 33.1" and mounted on linen.
---